Online Student Information System
A student's passive journal through their educational journey.
What is the Student Information System (SIS)?
Manually managing student's data sometimes become a tiresome and a vexing task for the educators and administrators. But, with the evolving technology in the education industry, all operations can be easily streamlined, which eventually improve student's productivity, efficiency & results.
Online student information system aids in managing, storing, and tracking the information such as admission number, attendance records, performance tracking, and much more. Hassle free administrator, educator, and parents can access the relevant information and monitor the performance of a student's schooling and make data-driven decisions to improve their growth.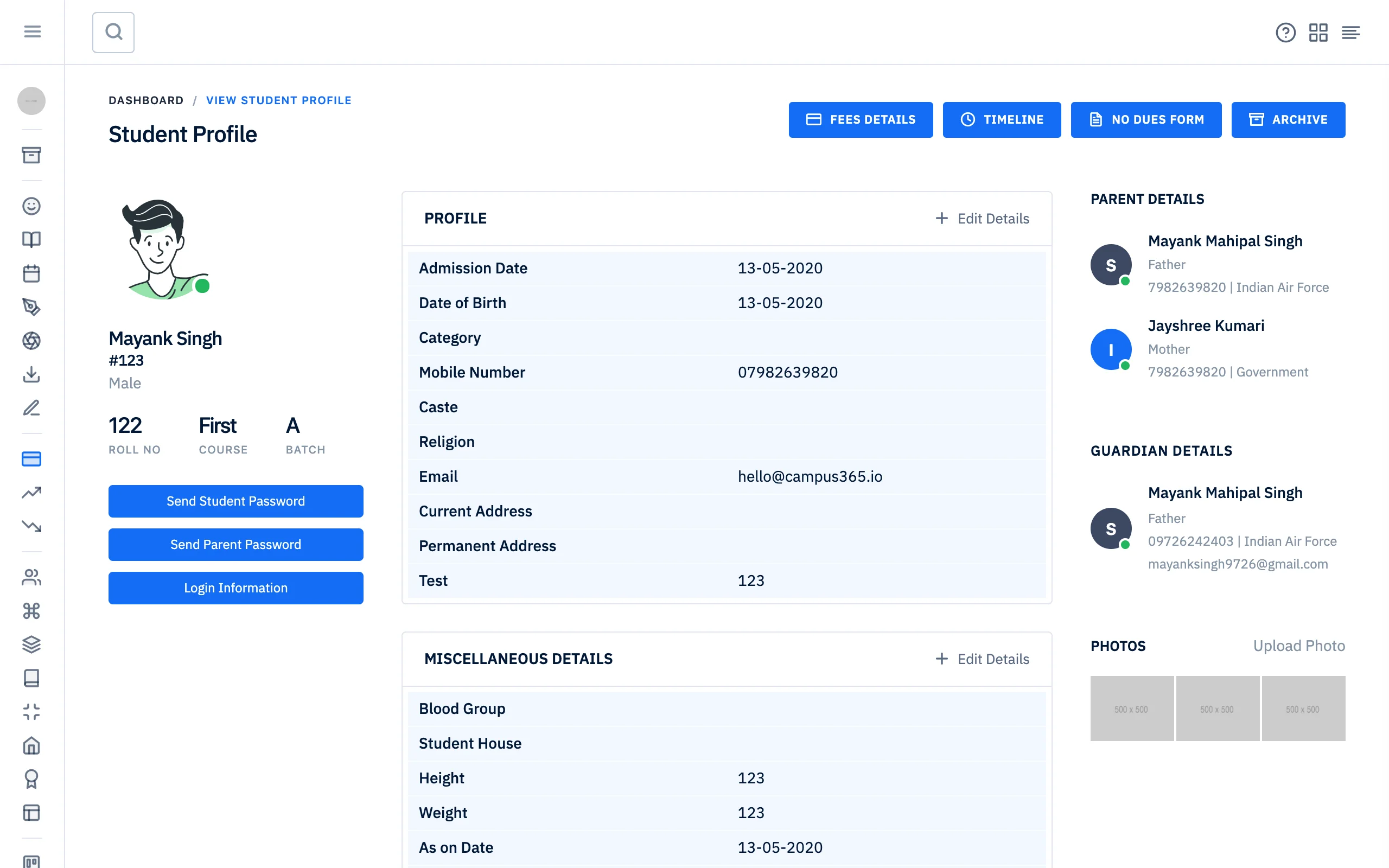 What are the benefits of the Student Management System?
For Teachers
Data-driven reports on student's progress
A unified place to maintain the student's grades
Stay connected with students
Easy communication with parents
For Admins
Admission process streamlining
Centralised records repository
Improve efficiency of the staff
High-level data encryption and security
For Students
Stay up to date on any change in class schedule
Manage / Evaluate their performance and progress
Enables students to connect with teachers encouraging discussions
Students can check their attendances to see their progress
For Parents
Monitor & track the progress of students
A unified place to maintain the student's grades
Stay notified on the students commute from home to school and vice versa
"Did you Know? Campus 365 is the leading EdTech provider for K-12, serving more than 1000+ Institutes, 5+ million students and teachers in 140+ countries around the world."
Why Campus 365 Student Information Management System?
Power of Cloud
Campus 365 enables cloud powered School ERP system, helping the students stay up-to date with the next generation operation softwares
Data Security
Avoid data breach, provide full data compliance and better data security
Integration with other tools
Hassle-free integration with your favorite software such as LMS, payment gateway, sms gateway and many more
Affordability
Cost effective solution, pay only for service, zero spending on hardware
Implementation Time
Negligible time for implementation, since the software is shared on cloud as a service
Easy to Use
All of the sections on each page are modular, so you can drop them into an existing page, or start with a new one!
Training and Support
24/7 customer support and comprehensive training provided by our experts at your own convenience
Customization
Design the system according to your institution needs
Get Started for Free Today
Join millions of users who have shared that Campus 365 provides 99% of Customer Support Satisfaction.
Try Free For 7 Days
Get Started