About Greenfield Academy School
Greenfield Academy School was established in 1999 as the mother branch of Green Field Group of School, under the guidance of Chairman Dr. R.N. Mishra with an inspiration of our patron Dr. Madhusudan Dixit and Secretary Mr. K.N. Mishra retired Principal Birla Vidya Mandir Hargaon. The school has good strength of students, spread over more than 2 acres full of lush green, unpolluted hygienic environment. The spacious classrooms, well-equipped Labs, Library, Computer Lab and playground provide all opportunities for students to excel in the area of Interest.
Executive Summary: In this case study, we take a deeper look at how Campus 365 school management system helped all the stakeholders in saving 20% of their time, money & space. Also, it assisted in boosting their productivity & enhanced digital literacy skills.
---
Challenges & Requirements:
---
Automating student's admission process was one of the key reasons that Greenfield Academy School was looking for the school ERP solution. From issuing admission form to collecting students' data manually was a tiresome task for administrators. Hence, it was impacting their productivity.
They have a manual attendance process which makes it difficult for them to keep track of students' attendance when they are moving from one section to another, also calculating attendance manually for report cards was a time-consuming task for teachers.
To capture the student's grades for each assessment & calculating the GPA for analyzing the student's performance they were using google sheets, which left ample opportunity for errors and made the process more tedious and challenging for the staff members.
Manually collecting fees, writing a fee receipt and entering data into the cashbook required lots of paperwork which was not only easy to maintain but also increased their administration cost day by day.
To manage the admission enquiry, their sales team was using google sheets, which led to lead duplicity and made it difficult for them to analyze the lead's journey through-out the sales funnel.
---
The Solution:
---
Greenfield Academy School was looking for a SaaS system that could be easily customized according to their diverse needs. After in-depth research, they finalized Campus 365's School Management System.
According to Alok, Founder of Greenfield Academy School "We looked at various solutions including My Classboard, NextERP and well as some open-source ones such as OpenEducat. As I have a strong background in ERP sales and implementation, I knew that I wanted a SaaS system and a vendor who had the right philosophy. By that, I mean that the vendor was thinking deeply about the architecture of the system (maintaining a single master version and not individual versions for each customer) but at the same time was open to making it as flexible/configurable as possible to meet the diverse needs of the various customers. I really liked the usability of Campus 365 school ERP, the simple clean user interface and the fact that the system did not lag and it was responsive."
Key Highlights:
With the Fee module, they were able to enter fees directly into the system and generate fee receipts from the system itself. This eliminates the processes of writing receipts manually and entering them later in the system.
The whole admission process has become digitized, now admin can seamlessly track the admission related information & new applicant enquiries on a real-time.
Fee collection process becomes digitized with Fee Management feature, admin can maintain fee receipt and payment records in digital format and on real-time keep a track on fee defaulters.
Overall, Campus 365 school management system helped in saving the precious time of admin, teacher, and principal as well as made our organization structure more robust & secure.
---
The Success:
---
Going paperless has enhanced digital literacy among all the key stakeholders and helped them in saving 20% of their time, space & money.
Admin & Principal are much happier as there burden has reduced and they have to spend less time during the EOD process.
The admission process becomes more simplified, faster, error-free and more secure.
Improved their decision making as in a click they can generate multiple customized reports.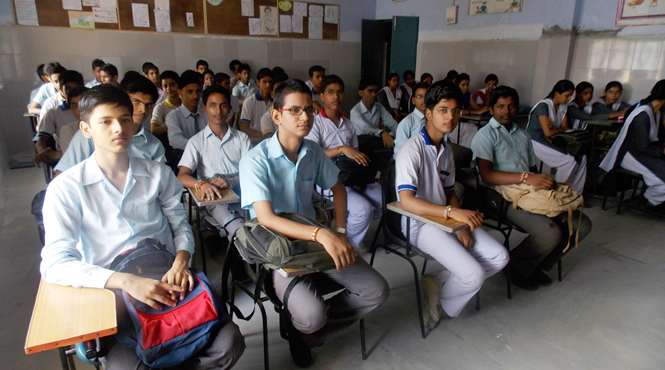 ---